Barrier Free Living Tenant-Led Garden Club Thrives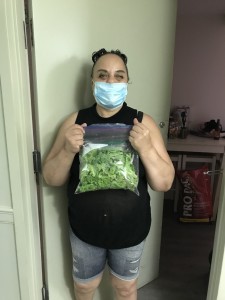 The Barrier Free Living Apartments' tenant-led Garden Club is thriving with a strong sense of community and an abundance of fresh vegetables this summer.
Gigi, an original member of the club, says the roof top garden at the Bronx-based supportive housing program, which includes flowers as well as a host of vegetables, is providing a rich crop. More important, she adds, the club is making sure that members who cannot get out (during COVID-19) are receiving the bounty.
Tenants also use produce grown in cooking classes, led by the agency occupational therapy team.
For 40 years, Barrier Free Living has worked with survivors of domestic violence with disabilities at our shelter and programs. The club is made possible in part by a grant from the The City Gardens Club of New York City.