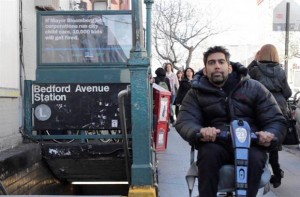 In celebration of the 25th Anniversary of the Americans with Disabilities Act (ADA), led by the NYC Mayor's Office for People with Disabilities, BRIC FLIXis very proud to announce its partnership with ReelAbilities. The nation's largest disability film festival, ReelAbilities is dedicated to promoting awareness and appreciation of the lives, stories and artistic expressions of people with different disabilities.
On Tuesday, June 9 at 7PM, JCC Manhattan, ReelAbilities: NY Disabilities Film Festival will host an artist talk by NYC-based filmmaker / media artist / activist Jason DaSilva. Mr. Da Silva is the director of the award-winning film 'When I Walk' (2013), which premiered at Sundance before its world tour. (Learn more here.)
Using the Chronology of the past ten years, DaSilva explains how his work shifted thematically after he was diagnosed with primary progressive multiple sclerosis at the age of twenty-five. By examining his video pieces, he analyzes the relationship between disability and identity through the lens of his personal perspective and art. Mr. DaSilva will show excerpts of his past work, as well as a sneak preview of his new, groundbreaking web-series The Dismantled.
Moderator: Faye Ginsburg, Director, NYU Council for the Study of Disability. Advisor, Reelabilities Film Festival
» Read More