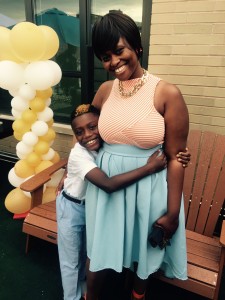 Monique will never forget the night her son Keenan saved her life.
"Keenan was in the living room watching cartoons. He came and knocked on the door of the bedroom and that made him (her abusive ex-boyfriend) stop strangling me," Monique says. "He (her ex) wanted to kill me but he couldn't kill a kid. He knew if he killed me he would have to kill my son, so he stopped. Keenan saved me."
Today, mother and son are living safely in their home at BFL Apartments, Barrier Free Living's new Bronx-based complex for survivors of domestic violence with disabilities, as well as veterans with disabilities.
Monique was recently awarded a scholarship to pursue educational goals, and Keenan (age 7) completed a summer theatre camp. His dream is to be an actor.
The journey to this place of strength, Monique says, was difficult, but incredibly worthwhile. The night of the original attack, she says, was the start of a week-long fight for survival. Her ex held her and Keenan hostage.
"He wanted me to say I would stay with him. I said that, but he wouldn't believe me. He finally left and I ran to the neighbors with Keenan," says Monique.
Before the trial that sent her abuser to prison for attempted murder, his family "stalked" Monique to try and convince her to drop charges. She and Keenan left the state and moved several times during that period.
Ultimately, the mother and son landed in the Bronx, finding BFL Apartments.
"Monique Johnson is a truly a fighter," says Tamar Carathers, her social worker at BFL Apartments.  "Since moving into Barrier Free Living Apartments (BFLA), she has participated in our 1st Clothing Drive for the tenants. Each and every event that BFLA hosts Monique is ready to roll-up her sleeves and jump in."
Tamar calls Keenan a "breath of fresh air."
"His energy is contagious, "says Tamar. "I'm excited to see what the future holds for Monique and her amazingly talented son Keenan."
Monique and Keenan are featured in the October issue of Self Magazine as part of a photo story featuring survivors of domestic violence. October is domestic violence awareness month.
Save
Save
Save